December 8, 2021 - Audio, 1.02 HR
(Links at bottom of page to download free viewers.)
As we come to the end of the year the world is in a state of crisis. Uncertainty is the new norm. We consider though that God is in control and take a look at how He is at work in the Kingdom of men.
Hello and welcome to this weeks Bible in the News.
This week we join a Christadelphian Bible Talk given in Nottingham in the UK on Wednesday 8th December 2021. The Talk is entitled "2021 Sign of the times" and gives an overview of some of the recent events connected to the Bible's prophecies that have to do with the state of the nations just before the Lord Jesus Christ returns.
Before the talk Ezekiel chapter 38 was read as an introduction.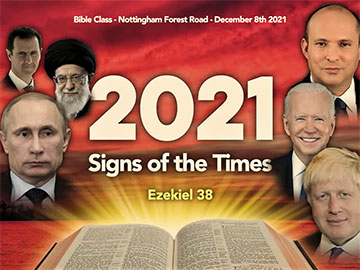 (Listen to the Podcast to hear the talk).
Thank you for tuning in and join us again next time God Willing as we watch for the return of Zion's king with Bibles in hand.